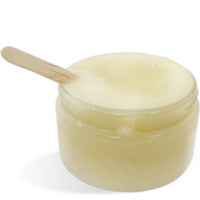 Pumice Foot Scrub
De-stress after a long and busy day in a bath filled with these skin-loving mineral enriched salts. Dead Sea salts contain magnesium, calcium, and potassium which are thought to help combat stress and also soften and soothe the skin. 
This product contains 70% of Dead Sea Salt from Israel  (The Holy Land).
How to use:
-Massage in circular movements onto your feet to remove dead skin cells and support natural circulation. Pay special attention to rough and dry areas.
-Rinse well with warm water. 
-Use once or twice a week for maximum benefit.
Ingredients:
Israel Sea Salt (Dead Sea),  Sodium Chloride (Dendritic), Sea salt (Himalayan), Magnesium sulfate (Crystals), Magnesium sulfate (European),Israel Sea Salt (Dead Sea),  Sodium Chloride (Dendritic), Sea salt (Himalayan), Magnesium sulfate (Crystals), Magnesium sulfate (Hawaiian),Magnesium sulfate (Epsom),  Pumice Powder Fine,Helianthus Annuus (Sunflower) Seed Oil,Officinale (Ginger) Root Extract, Tocopherol, Persea Gratissima (Avocado) Oil, Mentha Piperita (Peppermint) Oil, Rosmarinus Officinalis (Rosemary) Leaf Oil, Melaleuca Alternifolia (Tea Tree) Leaf Oil